Nine Seputeh @ Old Klang Road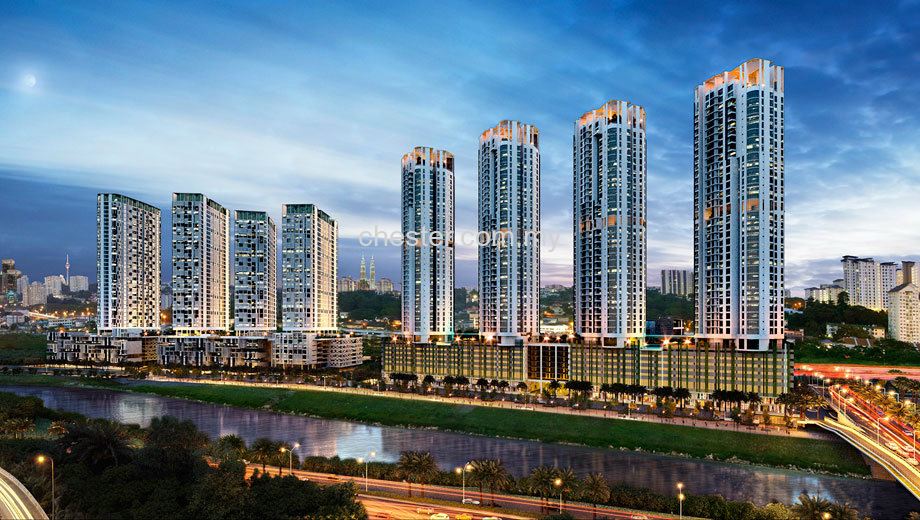 Nine Seputeh
In Klang Valley, Old Klang Road or Jalan Klang Lama, despite being the oldest and first major road in the Klang Valley, has seen a renewed surge in development as of late.
The adage 'old is gold' certainly seems fitting when describing this neighbourhood, as many savvy investors have struck gold in recent years by investing in the thriving townships that now sit along the old highway that stretches from Petaling Jaya to Kuala Lumpur.
The developer, Malaysia Resources Corporation Berhad Group (MRCB) has set in motion its latest development, known as '9 Seputeh', which is poised to convert Old Klang Road into the newest talk of the town!
On the heels of its already successful maiden development — KL Sentral, "Kuala Lumpur's transportation hub" — MRCB has put in place all the necessary ingredients for 9 Seputeh to become the new landmark for Kuala Lumpur and Klang Valley.
Just as Brickfields has been transformed by KL Sentral, the developer envisions 9 Seputeh transforming the Old Klang Road vicinity, too..
The project, located within the Seputeh vicinity of Old Klang Road, sits on a 17.4-acre stretch of prime land where it is cocooned within the golden triangle commercial and retail hubs of Bangsar, KL Sentral and Mid Valley.
It is supported by a network of very major roads and highways as well as public transport systems.
Key amenities and lifestyle needs are just a merely minutes away, and the integrated development fully supports the requirements of modern living, particularly for the urban dweller constantly on the go.
ACCESSIBILITY is one of the key attractions of this area — straddling 9 Seputeh are the New Pantai Expressway (NPE) and the all-known Federal Highway.
MRCB intends to enhance connectivity by building a dedicated link bridge to the NPE, as well as a dedicated covered link bridge to the proposed Monorail station that is to be located along Old Klang Road, and just a short distance away is the Maju Expressway (MEX) and the East-West Link.
Once completed, 9 Seputeh will also include the area's tallest structure, signature retail and commercial components, as well as chic residences and SOHO suites.
Towering above other buildings in this area will be the
43-storey VIVO Residential Suites, with units ranging from 775 square feet to 2,500 square feet, set to cater to different demographics from young professionals to families needing extra indoor and outdoor space.
Living at VIVO also means convenience and accessibility, as it is located within an integrated development.
Its 5-acre landscaped deck is elevated 9 floors above the rest, and is a modern version of the 'Hanging Gardens'. Residents can choose to immerse themselves in the host of indoor and outdoor facilities, including pools, putting greens, jogging track, tennis court, jacuzzi, sky gym or zen garden, all from the soaring height of 26 floors above the rest of the city.
9 Seputeh, which has been inspired by the courtyard gardens of Alhambra, Spain, will feature sprawling open plazas, landscaped riverbanks, environmental decks and green vertical walls.
There are also other tracks of land that are available for integrated development within a 5km radius of the city centre, making 9 Seputeh a rare gem that holds great potential for long-term investment and capital appreciation.
MRCB truly has pulled out all the stops to ensure that 9
Seputeh will far exceed the expectations of investors and residents by making sure all the necessary facilities are in place to make living in 9 Seputeh as comfortable and convenient as possible.
The development will also be equipped with fibre optic infrastructure and disabled-friendly facilities, and has also been LEED Certified, testifying to its eco-friendly and green building standards, which is another of MRCB's trademark.
Clearly, 9 Seputeh is set to make waves in the Klang Valley in the near future.
REDEFINING Your Perspective On Old Klang Road With 9 Seputeh
Old Klang Road (OKR) has always maintained a low profile as the area between Kuala Lumpur and Petaling Jaya, until now.
What's INTERESTING here..
1. More people are investing in new developments and properties in OKR as their second home
2. New businesses and renowned retail outlets are setting up store in the area
3. A pedestrian bridge connecting 9 Seputeh to the upcoming monorail station will make catching the monorail safer and faster
4. OKR has always been recognised for its strategic location, neighbouring both KL and PJ. The upcoming dedicated link from 9 Seputeh to the NPE highway makes connectivity even easier.
5. The skyline will be transformed after the construction of 9 Seputeh, envisaged to be the tallest building along OKR
6. THE KLANG RIVER will soon be given a facelift to turn it into a beautiful new riverscape adjacent to 9 Seputeh called 'The River of Life'
7. Big central parks within 9 Seputeh are being built to revive the green lung in town
8. CHIC and MODERN ARCHITECTURE are in the works by award-winning property developer MRCB Land
9 Seputeh, the latest INTEGRATED DEVELOPMENT to redefine Old Klang Road, is brought to you by MRCB, a strategic planner synonymous with the much-touted KL Sentral integrated development. MRCB have won numerous accolades including The FIABCI Malaysia Property Award in 2002, 2008, 2009, 2010 and 2013 for Stesen Sentral Kuala Lumpur, 1Sentral, Platinum Sentral and Sooka Sentral.
And of course, Old Klang Road will always have some of the BEST STREET FOOD to charm our heart
THE COMPONENT:
17.4-acre stretch of prime land
What's CURRENT:
Parcel C, VIVO Series
Serviced Residences
4 blocks of 42 & 44 Storeys Serviced Residences
Total units : 824 units
SOHO Suites (SOLD OUT)
1 Block of 12 Storey SoHo unit
Built-up : 500 – 850 sf